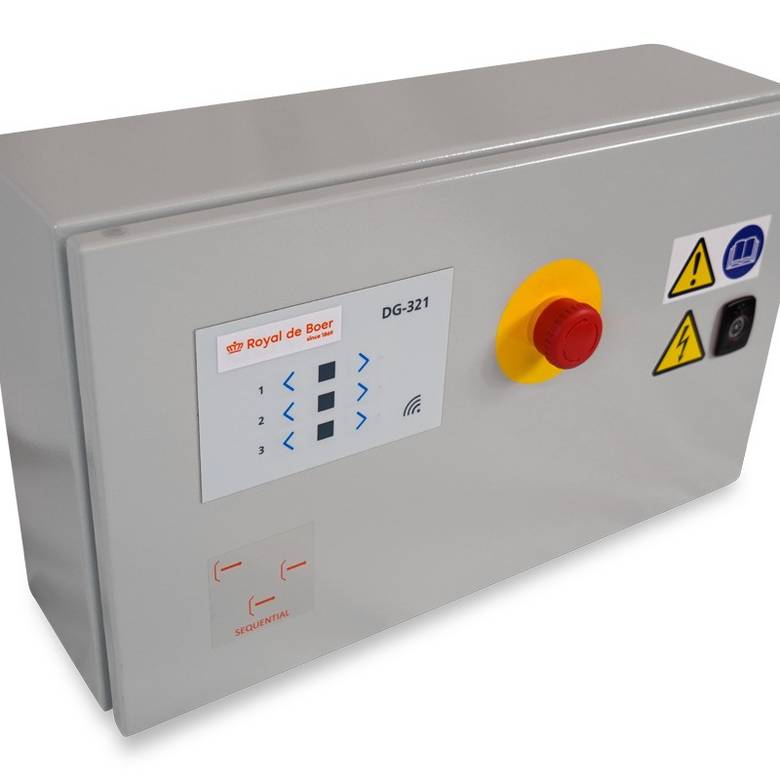 The DG-321 control box
The DG-321 offers you a wealth of options and convenience for scraping the manure alleys in your barn. The DG-321 control box allows you to operate one to three Royal de Boer manure scrapers using a single control unit. Set the start times with your smartphone or change the scraping direction with a simple touch of the button. Based on your specific needs, a wealth of features can be activated via an online programme or via the device itself. Your barn will then be cleaned based on the planning you set up.
The DG-321 can control one, two or three Royal de Boer manure scraper systems simultaneously. The DG321 can be operated via the buttons on the box and via your smartphone. Smartphone operation gives you access to a wealth of options. The DG-321 is a reliable control box for any dairy cattle barn, which immediately updates you via email in case of any errors or issues.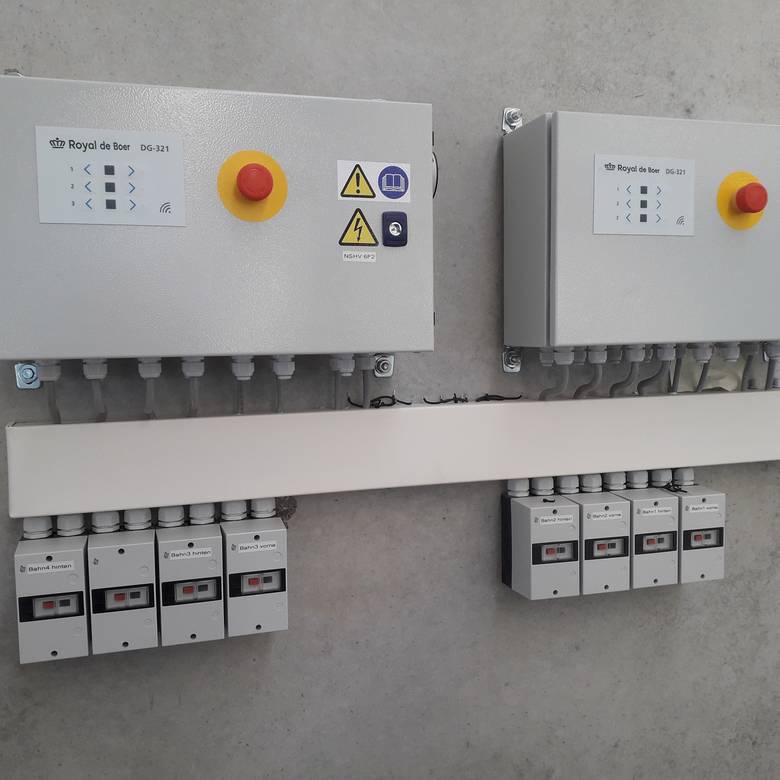 DG-321 control box for optimum ease of use
Configuration, operation and troubleshooting can all be performed easily using a smartphone within a range of 50 metres from the control box.
From configuration to operation, the DG-321 control box offers you a full range of intelligent features. You can easily configure the settings for all processes - such as a weekly schedule with an unlimited number of automatic start times, start-stop operation, cycle frequency and individual parking positions - via your smartphone or PC. The practical user software offers you a graphical display of all scrapings performed, including the required power, amperage and the current voltage.
It is possible to use two control boxes in a master-slave configuration. In this case, the control box does not just activate one or more drive systems, but also engages another DG-321 box, which in turn controls a gutter scraper, for example.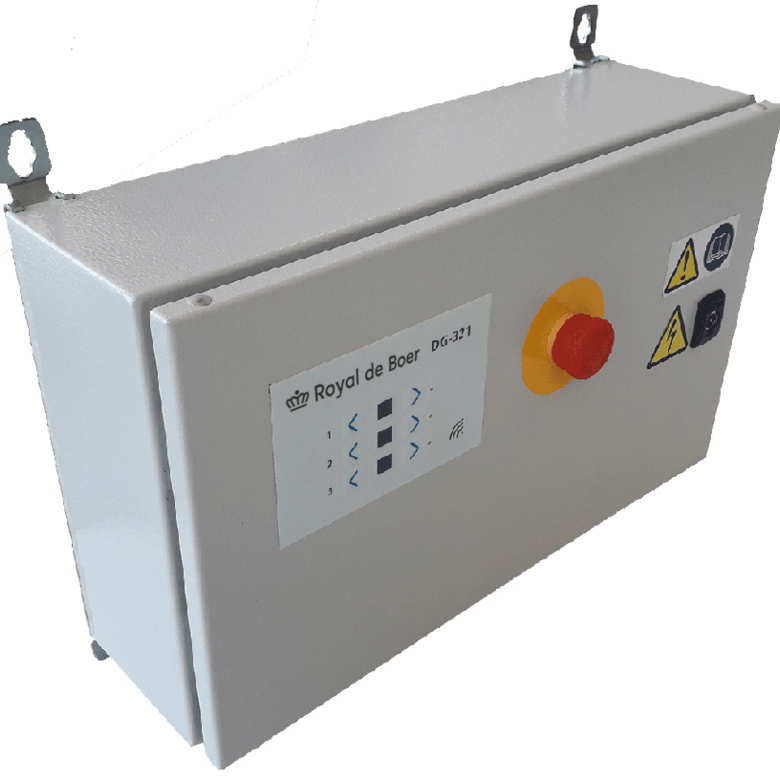 DG-321 Control Box benefits
Suitable for all drive station types: cable drive, Duo Compact I and II, SW drive, XScrape Chain.
Digital, suitable for network connection
Stand-Alone Wi-Fi and Ethernet connection
Can be operated via buttons on the box as well as via your smartphone
Clear and straightforward front panel for manual operation
Flexible parking positions for manure scrapers
An endless range of different scraping cycles are available. Each scraping cycle may include up to six passes. The duration of each pass can be determined in various ways: end switch, barrier or timespan.
A maximum of six external machines can be activated and stopped. This includes pumps, mixers, sprinklers, circular chain installations and other DG-321s.
Safety options, such as frost protection and adjustable and adaptive cow blockage detection
Start-stop operation
Optional error and service notifications via email
Service features, such as diagnostics and data storage. This product does not require a separate data logger.
Robust metal housing with protective coating, able to resist exceptionally harsh environmental factors.